"Lane Splitters has gone through a number of changes over the years; both rewarding and challenging. Growing through them all, we have refined our operation with an unmatched focus on customer service and craftsmanship. Many chains have the inventory, manpower, and investors to do it all…however with no passion/love for motorcycles or the blood, sweat, and years so many of us have invested in them. Every Harley or Custom that enters our shop is looked over and treated with the only the best interest and safety of our customers in mind. Attention to detail combined with fit & finish is why you come to Lane Splitters Garage. Thank you for visiting us and giving us the opportunity to take your bike to the next level." -Miguel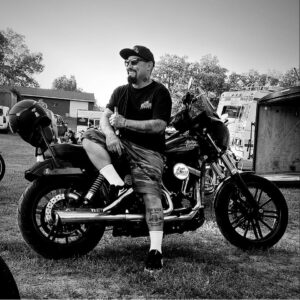 Miguel
Wrench / Rider / Builder
Growing up in Southern California and spending several years in the Midwest, Miguel has experienced a wide range of styles from several regions of the country. At age 15, Miguel began with working on his 1952 Chevy pick-up; bringing it back to life and customizing it to his liking. Shortly thereafter he acquired his first motorcycle, a Kawasaki 500. Similar to his truck he couldn't wait to strip it down and give it the style he had envisioned. Having since then developed a passion for cutting, chopping and riding motorcycles, Miguel has made it a point to explore various styles and designs. A great part of his mission has been inspired by many legendary masters of craftsmanship such as Donnie Smith and Arlen Ness. As the Visionary and Curator for Lane Splitters Mfg, Miguel continues to learn and progress on every project. His passion for motorcycles is apparent when you meet him and experience the environment he has created at the shop.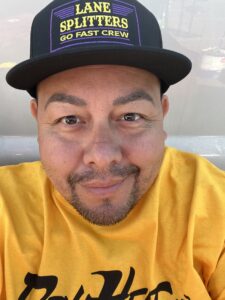 Martin
Traveler / Tailor / Vibe Coordinator
Martin has been huge in the Lane Splitters Mission. The man behind the scenes that deserves so much credit. Martin, also Miguel's brother, has been vital to Lane Splitters' success and national reach. Traveling quite a bit between the coasts, Martin brings so much to life with his craft in embroidery, design and content from motorcycle events all over the country. Whenever you see this familiar face throw him a what's up wave, cheers tap, or smile for the camera; you never know, your gorgeous face might make it on the website or one of our social media posts.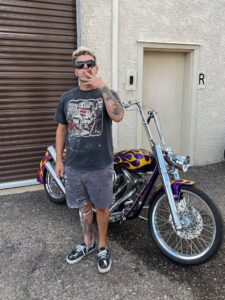 Anthony
Creative Director / Artist
Anthony has been with us since Day 1.  Sticking true to the family business, Anthony has also been a big part of Lane Splitters since its inception.  With art being a huge part of his life, Anthony upholds the "True To This" motto in everything he does.  Always improving and absorbing creative influence from his life travels and creative passion for branding has driven him since the start.  His talent for creating and bringing design ideas to life is just a fraction of what he means to this company.  Make sure to show him love should you spot him around the country soaking up whatever the next adventure brings.